ID Card Holographic Overlays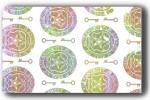 Shield and Key
The shield and key hologram is one of the more popular choices. This is a multispectral hologram that features small keys and large shields. Each of these are visible when held at different angles. The shield and key holograms have the words seal of authenticity at the top and Genuine written at the bottom. The words valid and secure are a part of the hologram as well.
Mark of Business
The mark of business is another popular choice of hologram for your ID badges. This hologram features 4 seals that are staggered. Two of the seals are located at the top of the card and the other two are located at the bottom of the card. Each of the seals have a sailboat located in the center of them. The text at the top of the card say the official seal. On the bottom of the card the text reads the mark of business trust. When the card is shifted the layers of the hologram will shift in intensity and color until the hologram completely disappears.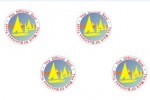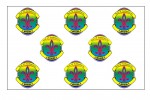 Official Seal
The official seal hologram features 8 patterned seals. All of the seals have the words seal of authenticity located at the top and the word official on the bottom. The fleur-de-lis is the emblem that makes up the seal. This is a full spectrum hologram which will vary the color spectrum as the light hits it.
Clear ID Overlays
Another option for your ID card is a transparent overlay that does not have a holographic image. A clear protective overlay will help to protect the surface of the ID badges. The holograph and clear overlays are compatible with laminated cards that use butterfly pouches as well as cards that were printed by a PVC ID card printer.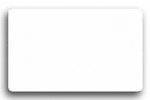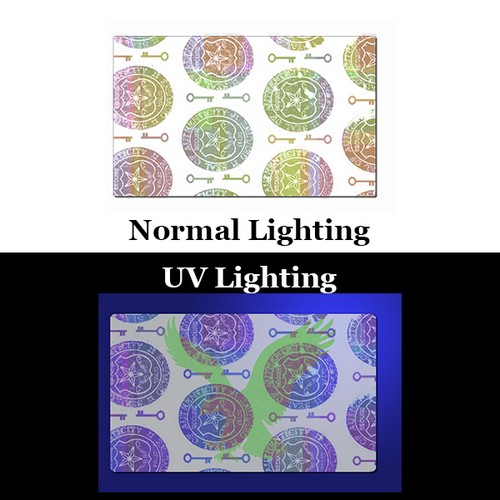 Holograms with UV Ink
Each of the options for holograms are available with or without a UV Eagle. The UV eagle adds an additional layer of security as it can only be seen under a UV black light. When checking the ID for authenticity a handheld UV black light will be needed.
The UV ink holograms will have the same image as the standard hologram. The only difference is that the hologram will be invisible under normal lights when they are printed with the special UV ink. The UV hologram can only be seen under the black light. This is ideal for identifying cards in darker venues such as clubs or for companies that need to add an extra layer of security to their ID cards.
For those who are looking for a way to enhance the security of their ID cards in a cost effective manner, choosing a hologram overlay is a good idea. These holograms protect your cards and also create a unique design and look for them at the same time.