ID Card Kits
Purchasing a complete ID card kit is a great way to get everything that you need in order to print quality IDs from home using any type of inkjet or laser printer.
This complete kit will include all of the items that you need in order to start printing right away. The kit can be fully customized to meet your current needs.
To print IDs from home you will receive Teslin synthetic sheets. The 8 up version is the most popular choice as it will allow you to print up to 8 ID badges at once. You can design your cards using the free templates available at IDCreator.com.
Once the IDs are printed, punch them out and then insert them into the included seamless butterfly pouches. You can choose butterfly pouches with or without magnetic stripes.
Once in the pouch place the ID badge through the pouch laminator that is included with your complete ID kit. In just a few seconds you will have creates an ID badge that looks and feels just like a PVC card that has been professional printed.
The protective overlays or holograms will be added to your ID badges after they have been laminated. These overlays will provide your cards with an extra layer of protection. Holograms when added to ID cards will make them much more difficult to replicate adding safety to your cards.
There are smaller and larger ID card kits available based on your current needs.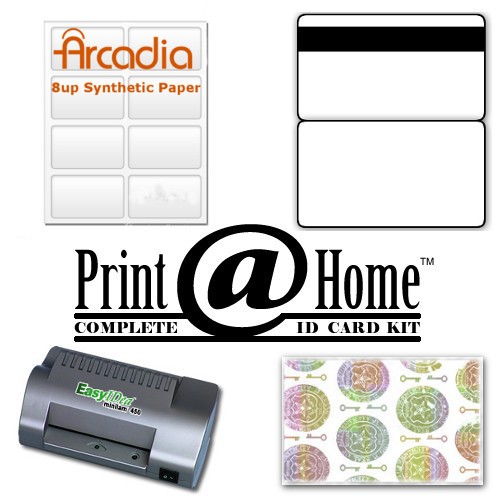 ID Card Kits Typically Include:
Synthetic Paper

Arcadia Paper is the best type of paper for making ID Cards

ID Card Laminator

The ML450 or the ML450T

ID Card Laminates

Available in Glossy or Matte Finish

Available in 7Mil or 10Mil Thicknesses

Optional Magnetic Stripe

ID Holograms

Your choice in Design